Large format tiles, a contemporary solution for modern look
Large-format tiles refer to tiles that have at least one side longer than 15 inches. It is trendy to install large tiles to both interior floors and walls in residential areas. The choice of the tile format largely relies on clients' seeking design or style. If you desire to turn your interior areas into a modern and elegant environment, the use of large format tiles should be a priority choice.
This type of tile offers stunning and charming visuals, luxurious and indulging feeling. Also, large format tiles can create the illusion of seamless finish and a bigger space. Another benefit brought by large format tiles is fewer gaps and breaks as they cover a larger area. Indeed, the fewer gaps and breaks allow a long-lasting waterproofing system as water can hardly go through.  Clients are also amazed at the idea that large format tiles emulate natural stones. It becomes so realistic that in several cases it is hard to differentiate these two materials.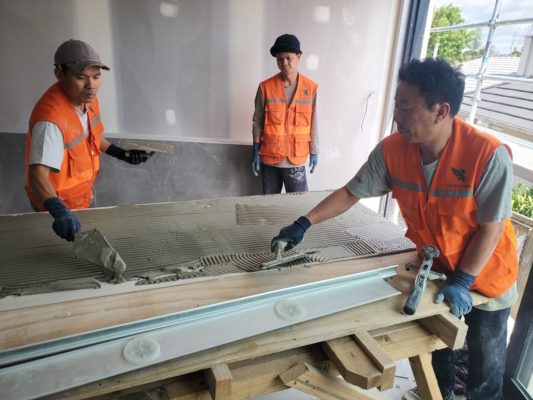 To maximise the benefits brought by large tiles, there is a significant amount of work associated with installation. Tilestone limited has a team of professionally skilled tilers who can meet the strictest standards when installing large format tiles. Our tilers utilise special tools such as rigid support frames to move and handle the tiles, which can help minimise the risk of bending, cracking, or even breaking the tiles. Moreover, the tilers need to ensure that the installation surface must be perfectly flat.
Otherwise, it can damage the outlook of the completed covering or result in cracking or breaking the large and thin tiles. Moreover, we follow the UNI 11493.1 standard to choose class S1 and S2 adhesive for the installation systems. These adhesives can ensure high levels of adhesion so that even the large format tiles originated from porcelain (a material with low absorbency) can be attached successfully.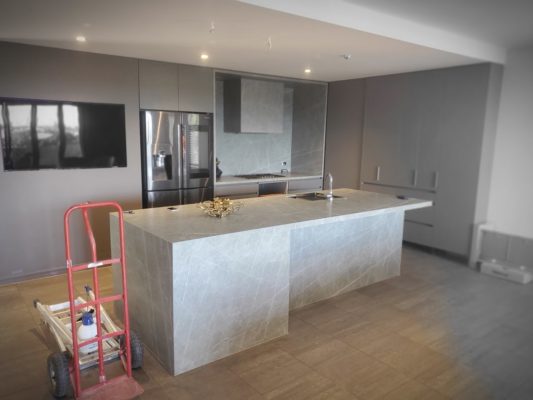 Tiling is a complicated process which demands patience and precision. When clients use tiling services provided by Tilestone limited, we guarantee jobs will be done properly by our dedicated tilers. Tilestone limited are pleased to partly create the desired atmostphere at your place.